Driving Digitalisation
with Cyclomedia
Downloads
The purpose of this Microsite is to highlight areas where Cyclomedia's remote data capture technology can help UK Power Networks  achieve its digitalisation goals for ED2 while also maintaining its position as best performing network company in Great Britain. 
We have matched where we have aligned what we offer to the four strategic business areas contained within your Digital Strategy Action Plan (DSAP). 
Vectorisation

DSAP commitment: To Procure services and commence delivery of the wholesale digital conversion of our geospatial network records.  

Creating a digital vectorised representation of infrastructure assets can be a long, time consuming process requiring a lot of manual effort and intervention to get it right.  

For the past 10 years, Cylomedia have been providing imagery and insights to Utility companies across the Netherlands to streamline the vectorisation process and provide quality assurance. 

Download
Download
Virtual Asset Inspection

DSAP commitment: To produce a playbook which identifies opportunities for cost savings, and actionable plans to deliver them, without negatively impacting business performance. 

UKPN has over 600,000 Low Voltage poles and associated conductors that need to be visually inspected periodically, to meet safety legislation. This involves survey teams walking the network on foot.  

We provide a virtual survey service, without the need for on-site visits and cutting inspection times by providing a more cost efficient and auditable service.  

Download
Download
Digital Twin

A digital model of the distribution network can help with understanding capacity constraints and help manage increased demand on networks, especially in Urban metropolitan environments such as London. 

Cyclomedia provides a locationally accurate representation of distribution assets as they are seen in the in the real world 

Download
Download
Cloud Hosting

DSAP commitment: UKPN has the ambition to Implement a modern, resilient, and scalable data infrastructure to facilitate improved data integration and access via scalable, cloud-based storage environments. 

All the data Cyclomedia collects is hosted and processed securely in the Microsoft Azure cloud, which is accessible both by logging into out cloud platform or via an API, there in no requirement for on premise data hosting or storage.  

Download
Download
Customer Connections

DSAP commitment: Enable better enable network connections for low carbon technologies. 

The demand for new connections across UKPN's operational area is predicted grow up to 40% by 2028. 

Our data optimises the site assessment process.  Providing a quicker time to quote to UK Power Networks customers.  

Download
Download
world leader in geodata technology
About Cyclomedia
Cyclomedia develops, builds and operates the world's most advanced mobile mapping systems. A combination of sensors ranging from cameras and Lidar scanners to state-of-the-art positioning systems map public space in Western Europe and North America.
On an annual basis, Cyclomedia currently captures and processes over 400,000 km's of 360° panoramic street level images and LiDAR data worldwide. That represents over 30 million recordings per year, and these numbers increase significantly every year. All those petabytes of data that we collect every year, are used by city governments to large corporates working in telecom, utilities, infrastructure, solar, construction, real estate and insurance.  
Cyclomedia helps companies to make the right decisions based on actual and accurate data. Today, our solutions make cities safer, more sustainable  accessible and smarter.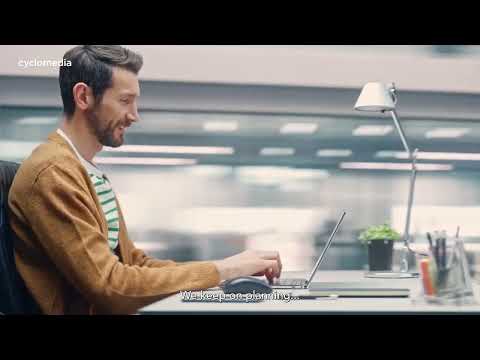 Cyclomedia
Using the world's most accurate 360°street-level visualizations, enhanced by innovative AI-powered analytics, Cyclomedia delivers actionable insights. Insights that you can use today to build a better tomorrow. 
Today, our solutions make cities safer, more sustainable  accessible and smarter.