ISO Certification
Cyclomedia has been ISO certified since 2022 (ISO 9001 & ISO 27001)
Cyclomedia has been capturing real-world data and turning it into valuable insights for over 40 years. We can't do this alone. With over 250 employees and more than 60 cars, we record more than 400,000 kilometres of roads every year and have already captured more than 600 million panoramic images.
This image data and the insights that can be gained from it form the basis for important decisions in government and business every day.
We are therefore proud of the fact that Cyclomedia has been ISO certified (ISO 9001 & ISO 27001) by the British Standard Institute since 2022. ISO is an independent and globally recognised standards-setting organisation. The organisation is an alliance of national standards organisations in 163 countries.
ISO 9001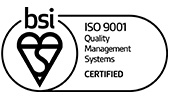 Is a globally recognised standard with quality management requirements. It is therefore a benchmark for transparency and reliability in the market.
ISO 27001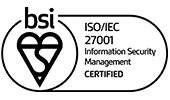 Is the international standard for information security. This standard describes how companies can deal with securing information process-wise.