Blog | 01 January 2019
Rethinking public space and transit post COVID-19
Despite the chaotic times we are all facing with the COVID-19 pandemic, smart cities around the globe, are taking this opportunity to rethink and in many cases accelerate their mobility plans.  They are making room for more and more bike lanes as cycling has become a more prevalent mode of commute. PAU, a New York-based design and architecture firm has gone as far as reimagining Manhattan without cars altogether. The DOTs in cities like Los Angeles and New York have promptly implemented outdoor dining programs to support struggling small businesses.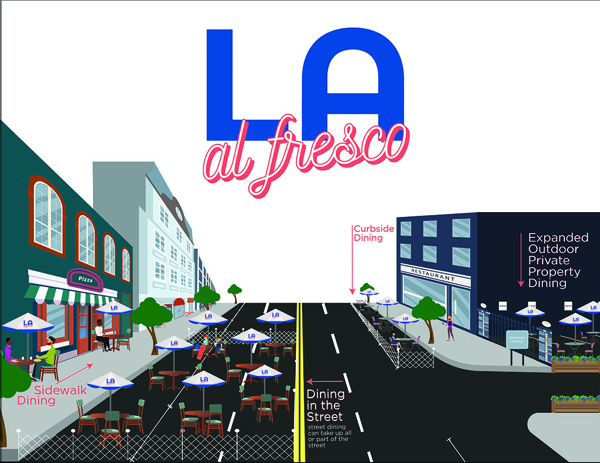 LADOT's Al Fresco Program provides resources for LA restaurants impacted by COVID-19
These cities understand that even after the economy reopens and people return to work, physical distancing will still be paramount to prevent a resurgence of coronavirus infections, and to prevent the disease from spreading further.
How Cyclomedia can support your new city architecture
Cyclomedia provides valuable tools to help cities and municipalities adjust their architecture to the "new normal" by providing them real world, visual data. Cyclomedia's 360° x 180° imagery and Street Smart™ data visualization tools allow city planners to effectively plan public transportation improvements for subways, buses, trains, cycle and HOV lanes, and even footpaths.
Use case: measuring bike lanes and expanded bike racks in Street Smart
Reopening the economy
As America begins to reopen its economy, many people will be returning to their worksites. Cyclomedia can support this change by:
Providing visual insights into where HOV lanes can be built.
Identifying critical sidewalk and footpath surfaces that need expansion.
Showing the flow of bicycle and other alternative forms of transit along key commuter paths.
Use case: measuring expanded outdoor seating for a restaurant
Building a safety infrastructure
Cyclomedia's 360° imagery, LiDAR point cloud, and Street Smart application allows city planners to effectively plan, budget for, and implement critical infrastructure improvements necessary to protect residents and commuters in the wake of COVID-19. City planners can effectively forecast, plan, budget, and implement critical infrastructure improvements now, before commuters return to work.
Use case: measuring traffic lane
Mobilizing for a sustainable future
Cyclomedia product portfolio can be used as a ground truth dataset as cities build a sustainable public transit infrastructure. Street Smart provides insights into pre-COVID-19 sidewalk, cycle path, railway, parking lot, and even footpath use. You can use this historical data today to build  infrastructure that creates a positive impact on key environmental factors such as CO2 levels in the future.
Street Smart allows for easy measuring and multiple viewing methods
Real data, true understanding, big impact
Cyclomedia's data rich imagery delivers a true understanding of your city's current public transit infrastructure. This data has a big impact in allowing you to plan your city's future public transit system.
Joe Astroth, CEO, Cyclomedia Technology, Inc.