News | 25 August 2021
Bluesky & Cyclomedia Partnership Combines Aerial and Mobile Mapped Data for Virtual City Models
Fuel a growing demand for virtual city applications in the UK
Aerial mapping company Bluesky International is working with Cyclomedia to bring together imagery and height data, captured from the air and at street level, to fuel a growing demand for virtual city applications in the UK.
Cyclomedia currently captures and processes around 375,000 miles of 360-degree panoramic street level images and LiDAR data worldwide – the equivalent to 30 million recordings a year. Enhanced by powerful Artificial Intelligence powered analytics, this data provides large scale systematic visualisations of physical environments, using specialised technology, from moving vehicles.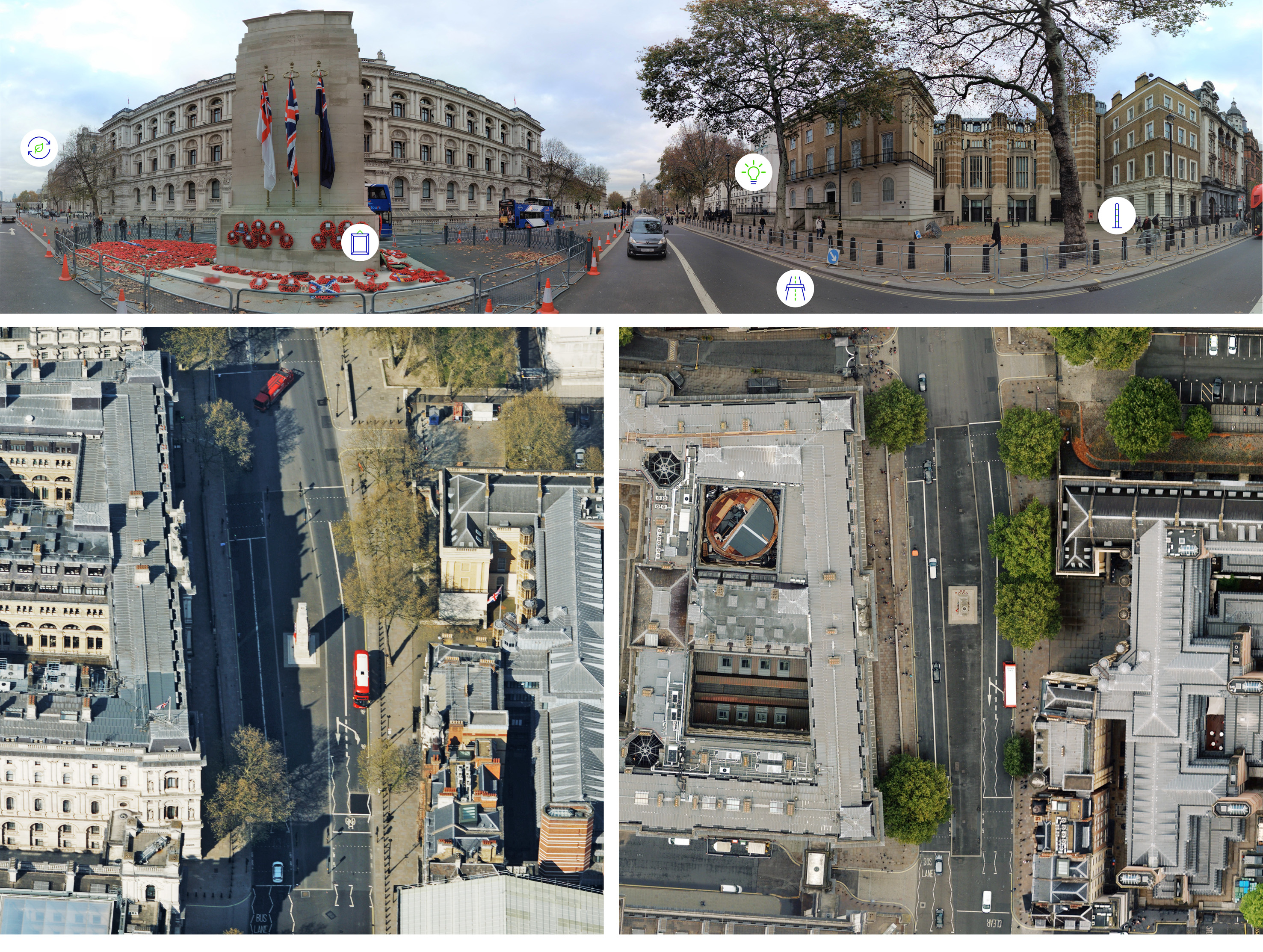 Using its hybrid airborne sensors, Bluesky has already flown many UK cities. Simultaneously capturing ultra-high resolution oblique and vertical aerial photography together with highly accurate LiDAR data, these Bluesky MetroVista products can provide large area aerial context for Cyclomedia's street level detail.
"By bringing together two best of breed solutions, in a single platform, we are ever closer to fulfilling the growing demand for true virtual cities available from the desktop," commented Rachel Tidmarsh, Managing Director of Leicestershire-based Bluesky International. "Cyclomedia has been a pioneer in the field of mobile mapping for 40 years and has completed projects around the world so was a perfect fit for Bluesky."
"Working with Bluesky we can ensure that users are getting the best of both worlds," added Duncan Guthrie, VP Europe at Cyclomedia. "We now have city-wide coverages achieved through aerial acquisition complementing street-level fidelity from our vehicle mounted sensors. Accessible through a single platform this will enhance a host of customer applications that require up-to-date, accurate, photo-realistic 3D city models."
Bluesky provides a range of aerial imaging and remote sensing collection and processing services and is the only organisation to have current, high-resolution, full coverage of the Republic of Ireland, England, Scotland and Wales, which it maintains on a rolling, three-year update cycle. Bluesky has also upgraded its national flying programme to a minimum 12.5 centimetre resolution with urban areas now being captured at 5cm resolution simultaneously with LiDAR and oblique imagery.