Use cases | 23 October 2019
Testimonial: Municipality Drimmelen & Royal HaskoningDHV
Royal HaskoningDHV was commissioned by the Municipality of Drimmelen to further elaborate the redevelopment plans for the village center of Terheijden into a final design and set of specifications. Simultaneously with the above-ground redevelopment, the sewerage will be replaced and the first part of a new heat grid will be realized. These types of projects often invoke a lot of questions among residents. In order to inform all stakeholders and to actively involve them in the project, the municipality asked RoyalHaskoningDHV to draw up 3D visualizations of the village center containing the Cyclomedia LiDAR Point Cloud. Martijn Poleij, GIS Specialist of Regional Development & Infrastructure, supervises the visualizations of this project from RoyalHaskoningDHV and has used the Cyclomedia LiDAR Point Cloud for this.
The most important application of the Cyclomedia LiDAR Point Cloud for this project was the visualization of the design plans in the public space. Because there are many objects in the outdoor area that need to be identified and modeled to produce a realistic image of the center, creating a realistic visualization of the public spaces used to be a time-consuming process. This is no longer the case:
"The Cyclomedia Point Cloud ensures that the existing environment becomes realistic and recognizable in visualizations. It is a 1-to-1 match with reality."
The Cyclomedia Point Cloud can also be used with little modification, so it is very simple to use in visualizations. It quickly creates an accurate visualization of the actual situation.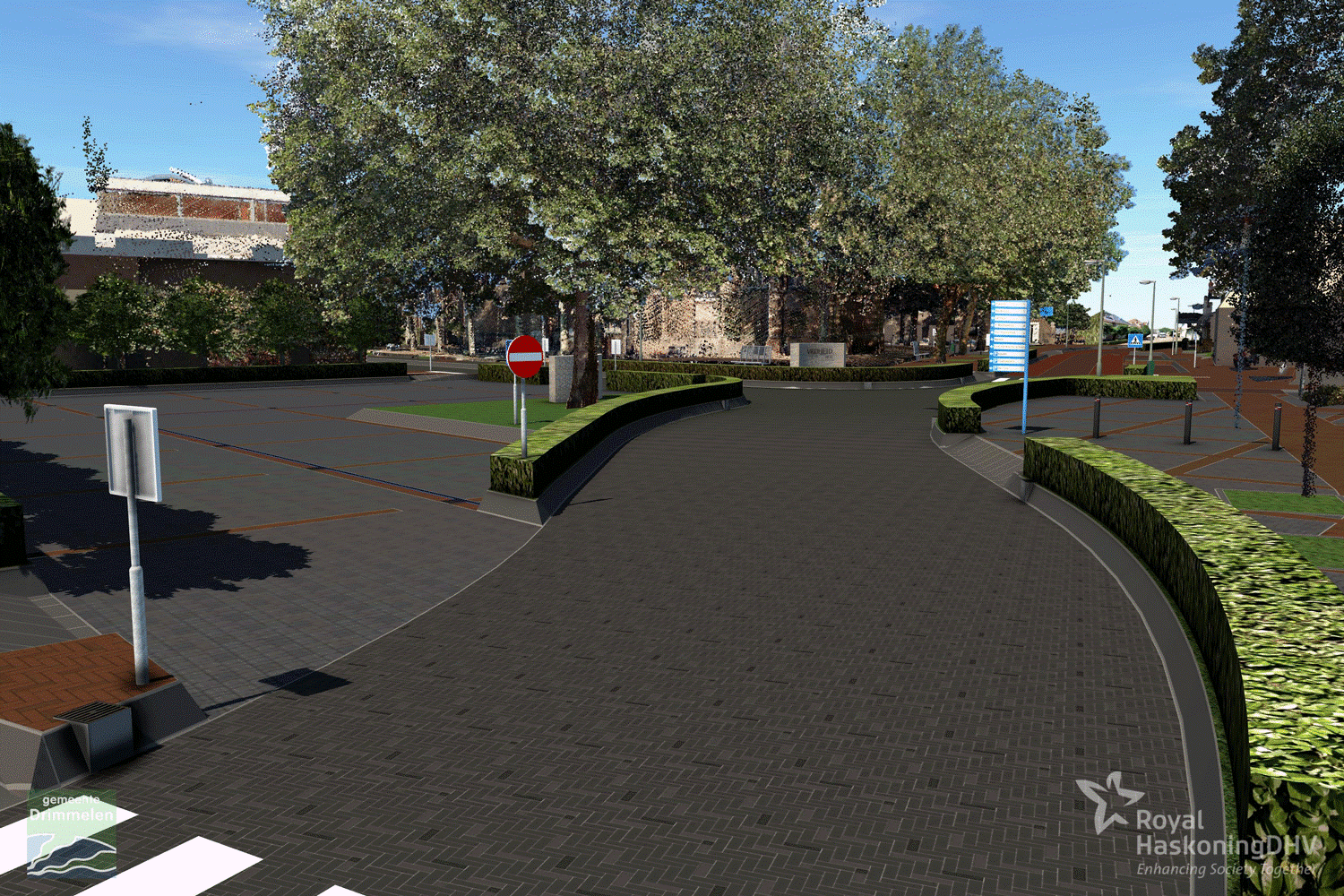 Avoiding miscommunication
All of these changes happening in the center generates many questions from residents. The municipality of Drimmelen wants to inform all stakeholders as best it can. Thanks to the recognizable and easy-to-interpret visualizations of the center, everyone has a good idea of the municipality's redevelopment plans. Using virtual reality with the integrated point cloud, the residents can literally walk through the new streets of the village center. This way, residents, the municipality and its policymakers, shopkeeper associations and all other stakeholders are directly involved in the implementation of the project. This avoids miscommunication and creates more room to focus on improvements in the center together with these stakeholders.
Significant time gain
In addition to visualization, Royal HaskoningDHV also uses the Cyclomedia Point Cloud to measure objects in the outdoor area. The Point Cloud makes it possible to get started immediately with accurate data at an early stage in the project. The Point Cloud has an ever improving coverage and will ultimately cover the entirety of the Netherlands. Because the data for a local project can be downloaded directly, it results in a significant time gain.
In the past, data collection could take up to 8 weeks. Now, we obtain the data within an hour.