Blog | 30 November 2022
Street Smart vs Street View
Cyclomedia Street Smart vs Google Street View
We often get asked what the main differences are between the well-known Google Street View and Cyclomedia's Street Smart. Basically, with both applications, you bring the field to your desktop, but to what should you pay attention when choosing the right software?
As a professional, you want to be able to do your job well and trust the software, hardware, and information you use and consult. After all, you don't want to make unnecessary mistakes when making important decisions because they are based on assumptions rather than facts. Do you work with or plan to work with software daily that digitally inspects public space? Then read on!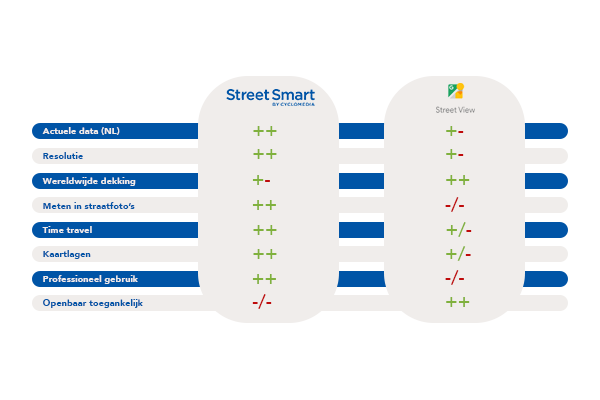 Cyclomedia Street Smart
Cyclomedia captures a lot of cities, areas, and even entire countries in razor-sharp focus imagery. Whenever we capture your city or even a part of it. We make sure it is updated every year or even more often. This makes the Cyclomedia image data the perfect basis for planning your work and inspecting public space from behind your desktop.
Google Street View
Google does not routinely acquire new images nationwide every year. This can make it difficult to use the data from those images for your work. After all, you can't blindly assume that the data is accurate.
Cyclomedia Street Smart
The razor-sharp image quality combined with the fact that Cyclomedia's images are geometrically very accurate has ensured that thousands of professionals in business and government use this image data as the basis for their daily work.
Think of inspecting sites and taking measurements of all kinds that allow for proper work preparation. This saves time, and money is more sustainable and ensures a safe situation at the actual location.
Google Street View
Due to the use of the fisheye lens, the images you can access on Google Street View are not as geometrically correct as in Cyclomedia's Street Smart. Also, the quality of the images is less, which in short means that the photos are not as sharp as in Cyclomedia's Street Smart.
This can give a distorted view of reality, making it impossible to take geometrically accurate measurements. Of course, it is not always necessary to be able to measure accurately to the centimeter, but the deviations can be serious and thus have a big impact on the assumptions you make.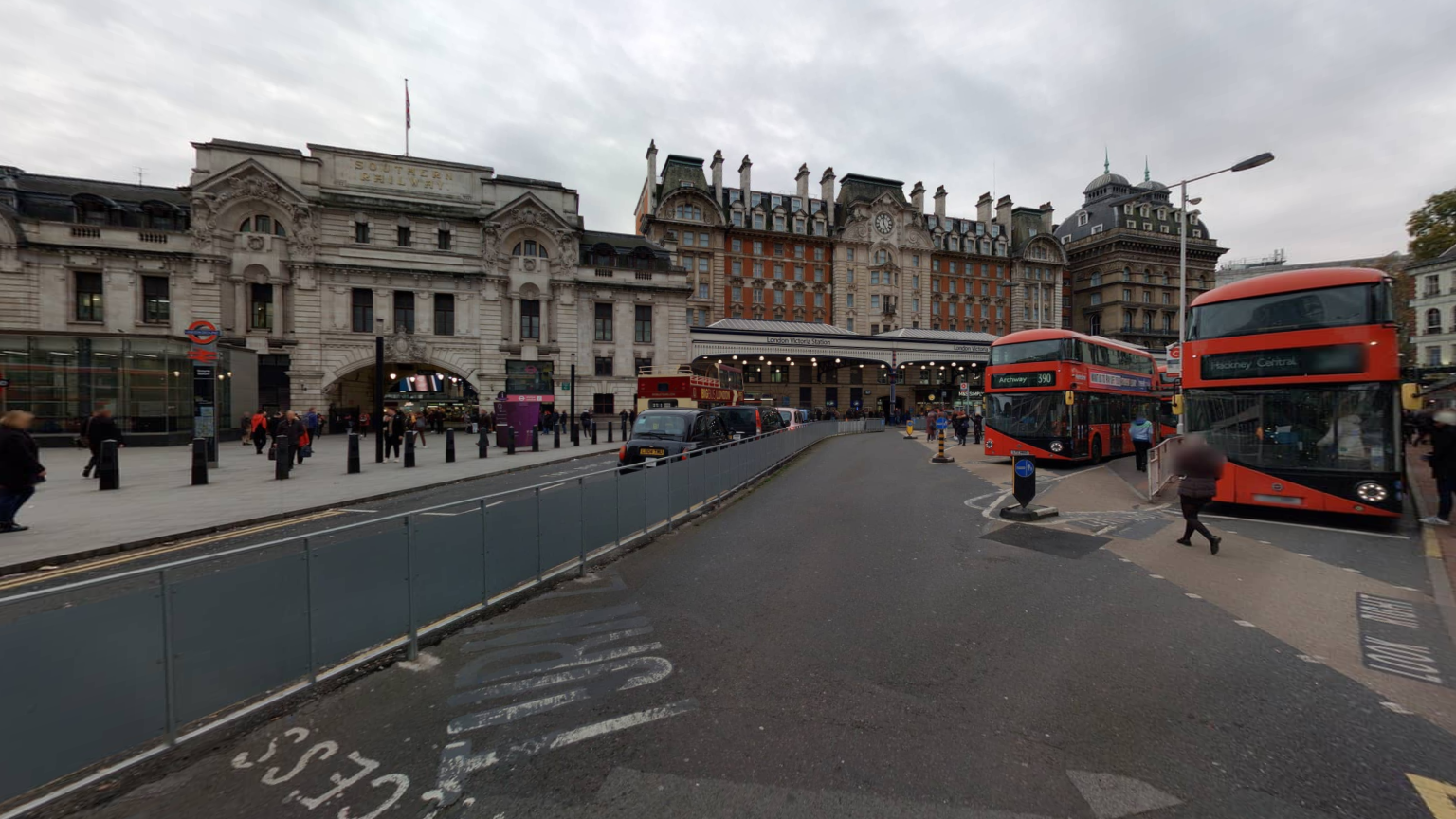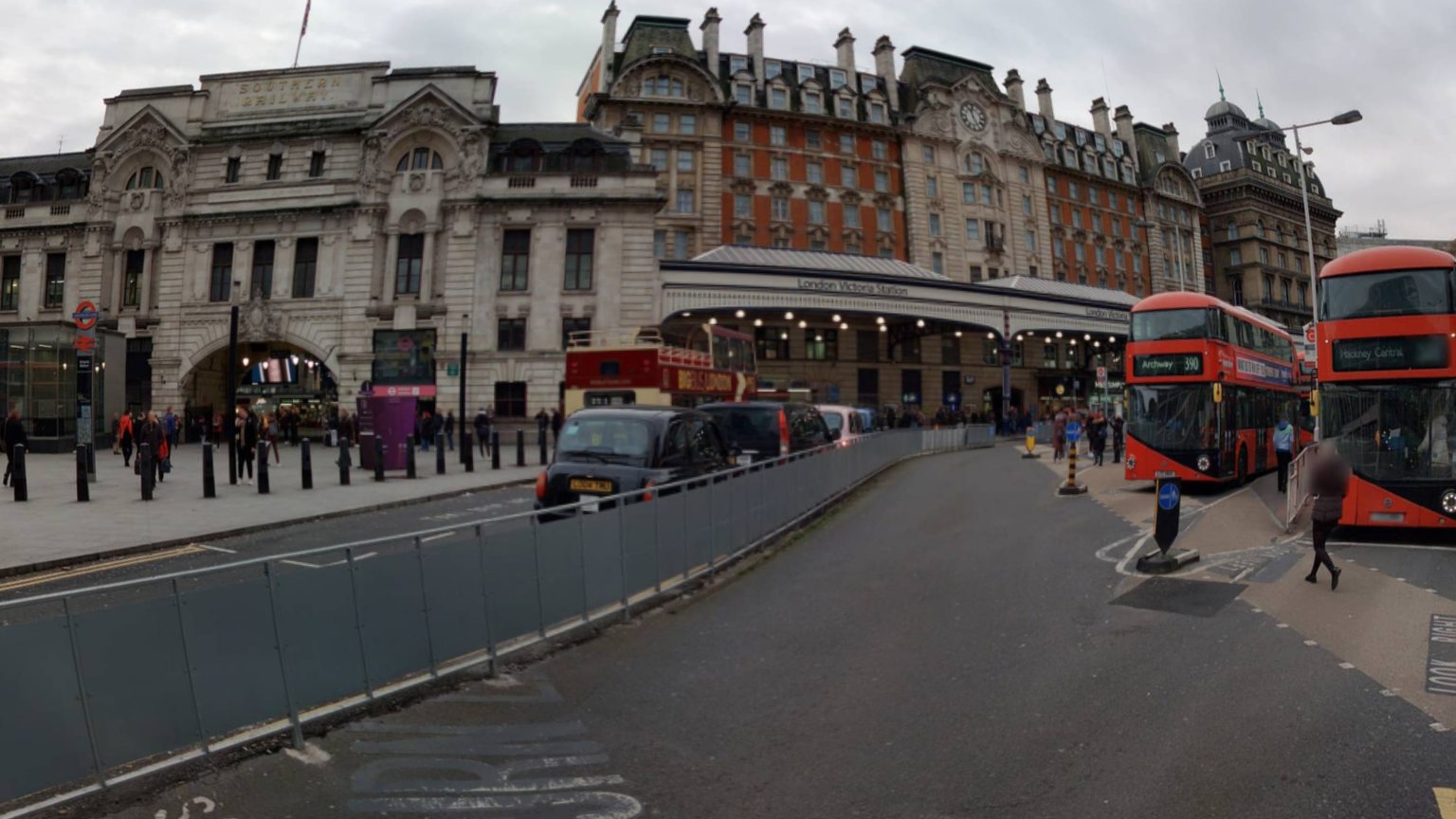 Measuring in street photos
Cyclomedia Street Smart
Thanks to advanced recording equipment and exceptional positioning quality, you can view Cyclomedias captured images and even do very precise measurements in the Street Photos.
This way you can save costs on traveling to locations, work more safely, and work more sustainably. The positioning quality of the imagery of Cyclomedia is so accurate that you can base important decisions on the measurements you do from behind your desktop right in Street Smart.
Google Street View
Let's get right to the point; you can't do measurements in the street photos of Google Street View. Of course, you can check the location that you are looking for in Google Street View to check what the location of your work looks like without actually going there. But if you want to know the height of a light pole, for example, to check which equipment to bring when you want to do some maintenance, there is only one thing you can do; go to the location and do the measurement.

Cyclomedia Street Smart
Cyclomedia's Street Smart is the tool you need as a professional to bring the outside in. It is not a public platform for consumers but exclusively intended for business use so that you can work smarter, more efficiently, sustainably, and safely. As a professional, you can rely on Cyclomedia's data, which makes the images perfectly suitable for adding to reports or quotations that you share with colleagues or collaborating parties, for example. This way, everyone has the same image data, and no one will be surprised when the work is actually carried out on-site.
Google Street View
Everyone knows Google Street View, and everyone has free access to this application. It doesn't matter if you are a consumer or a business user. Just a quick inspection of a location can be done by anyone. However, you are not allowed to use or distribute the images for commercial or business purposes. In fact, even downloading content from Google Street View is not allowed. In practice, this means that you cannot, for example, provide context in the form of a panoramic or aerial photo of a location in a report or quotation. When sharing image data is an important part of your work, Google Street View is not your best friend.
Conclusion
Needless to say, we are fans of our own Street Smart application. We are proud of the developments we have made over the years to deliver the quality and insights that thousands of professionals benefit from today. We understand that in some cases a global view of public space is also sufficient in an application like Google Street View that, after all, is accessible to all and free of charge. Just be aware that the images from Google Street View or Google Earth may not be used for commercial purposes. Officially, you are not even allowed to download the images.
Would you like to have razor-sharp images, make geometrically correct measurements, inspect buildings, create reports and share them with colleagues or stakeholders, perform simulations, or add data layers in a virtual representation of your city, area, or country, which you can be sure are correct and which can form the basis for important decisions?
Then Street Smart from Cyclomedia is the way to go. Try it now for 14 days absolutely free of charge.