Cyclomedia maps different areas of Europe
When do we drive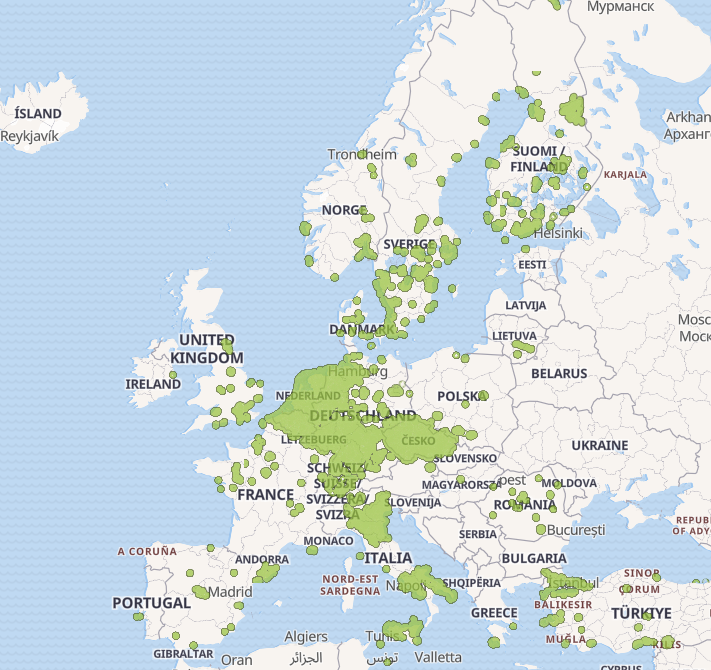 Cyclomedia makes recordings of outdoor space. With specially equipped vehicles, we take 360-degree panoramic photos from public roads and these street photos are also taken in your country, city or municipality.
Click here for a current overview of where Cyclomedia will be shooting in the coming months. We maintain this overview for you annually.
To whom are the recordings made available?
The photos are only available to customers of Cyclomedia via a website with access security. The database is therefore not publicly available to individuals, for example.
The photographs are used for inspection and management of outdoor space, visual support in the implementation and execution of legislation, development of spatial plans, preparation of work in public space and other (social) interests. Before Cyclomedia makes the recordings available to its customers for this purpose, recognizable persons and car license plates are made unrecognizable ('blurred').
Cyclomedia's customers are in both the public (such as municipalities, provinces, ministries and water boards) and private sectors (such as insurance companies, infrastructure and engineering firms).
How will citizens' privacy be safeguarded?
The photographs may contain personal data, such as recognizable faces, pursuant to which the General Data Protection Regulation ("AVG") applies. Cyclomedia has a legitimate interest to process personal data under Article 6.1 sub f AVG. The processing purposes concern the registration and processing of street photos in a database in order to make these photos available - under strict conditions - to public and private organizations. Faces and license plates recorded in the photographs are rendered unrecognizable by blurring.
In addition, the database is only accessible to Cyclomedia customers and not publicly available on, for example, the Internet. Moreover, Cyclomedia has taken other measures to protect and limit access to the footage, such as strictly secured servers where the footage is stored, access for only authorized employees of customers and identification of users of the database. Blurred images are retained by Cyclomedia for as long as necessary to fulfill the purposes of processing and to comply with contractual obligations with customers.
Cyclomedia has appointed a Data Protection Officer to oversee the application of and compliance with AVG.
 
For more information, questions, requests for inspection, rectification, erasure and restriction of processing or objection, please contact: Cyclomedia Technology B.V., Postbus 2201, 5300 CE Zaltbommel or [email protected]. You have the right to file a complaint with the Authority for Personal Data.
 
Click here for our privacy statement