City Positioner
Superb urban area positional quality
What is City Positioner?
A city never sleeps. Hundreds of thousands of people work and live in large cities every day. In order to guide all these flows in the right direction, a great deal of flexibility is required from local authorities.
In order to make decisions based on data that, for example, contribute to traffic safety, sustainability or better telecommunications, it is important that the image data from the outside world that local authorities use, is accurate and reliable. City Positioner is the solution that ensures that the outside world really matches with it's digital twin on your desktop.
City Positioner corrects any deviations of the digital twin of your city. We does this by matching the data collected from street level with the data that has been collected from a bird's-eye view by Cyclomedia. These two layers are overlaid and corrected where necessary. This allows you as a local government to really make a difference and to flow in the same speed as your city does.
Why it matters
Errors in the position of recording locations will lead to errors in, for example, the location of detected traffic signs, road markings, measurements and in the visualization of overlays.
A position quality with a maximum deviation of 10 cm from reality is required to support data-based changes in a city. Without this reliable data, there is a high probability of making decisions in the form of large projects that cannot be implemented correctly because the data source is not geometrically correct. This costs an enormous amount of time and money that could have been better spent.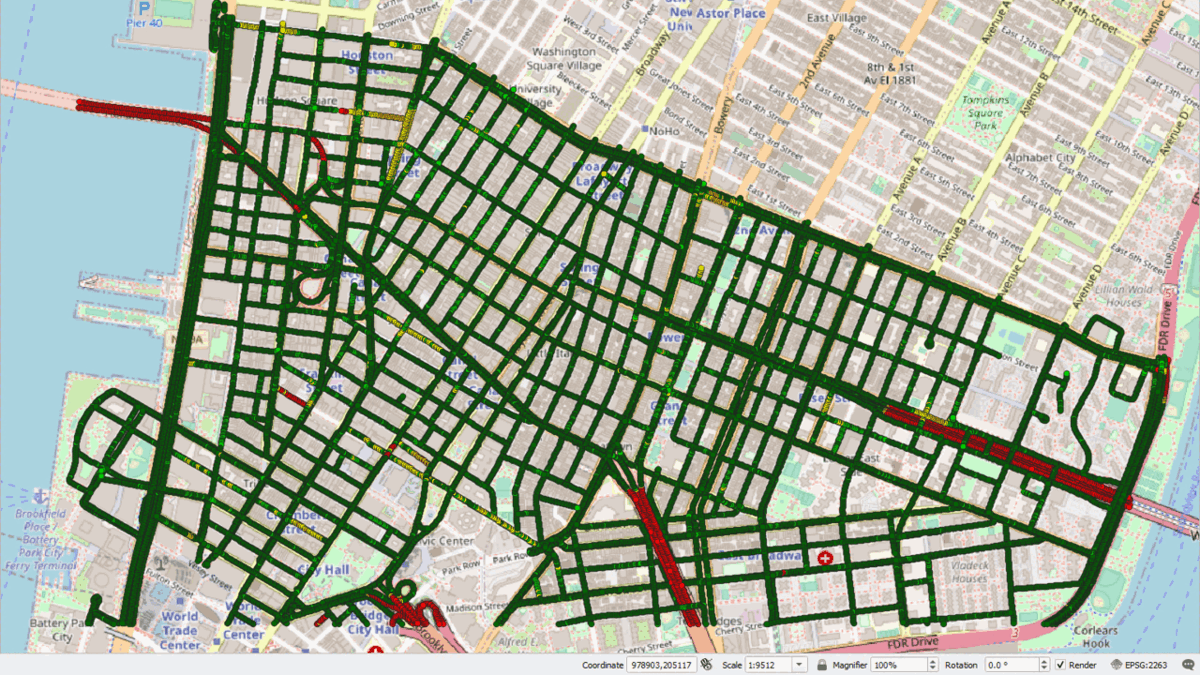 Before and after City Positioner
Dark green < 0.15 ft
Light green 0.15-0.30 ft
Yellow 0.30-0.75 ft
Orange 0.75-3.00 ft
Red > 3ft
Reference case: Berlin
What we did in Berlin, Germany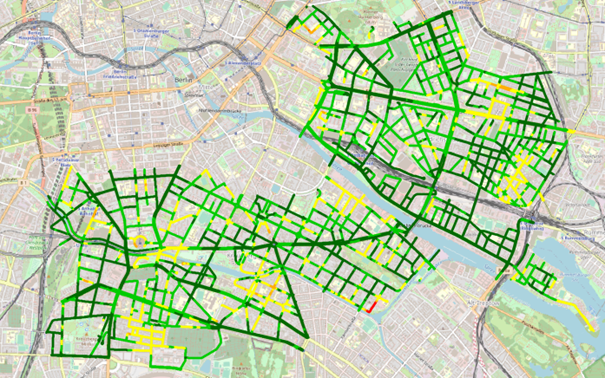 Unterschied in Berlin bei der Positionsberechnung mit und ohne Nutzung der City Positioner-Technologie
Dark green a correction of less than 1.96 inches
Light green between 1.96 and 3.93 inches
Yellow between 3.93 and 9.84 inches
Orange between 9.84 and 19.86 inches
Red over 19.86 inches
Superior positional accuracy
Download our positional accuracy whitepaper!