Blog | 01 July 2020
Supporting highway safety with custom asset inventories
Having a complete inventory of roadway safety assets and roadway characteristics is a vital component for State Departments of Transportation (DOTs) and local government's mission to improve highway safety. Cyclomedia's 3D roadway imagery and LiDAR, along with our AI-driven data extraction platform, Insights360, provide comprehensive inventories of transportation assets and visible roadway characteristics. Our innovative approach to roadway data collection and automated data extraction supply the intelligence necessary for true data-driven decision making for highway safety programs.  
Many states are struggling to gather the roadway, intersection and interchange information needed for the impending federal Model Inventory of Roadway Elements (MIRE) requirements.  Whether you lack just a few of the Fundamental Data Elements, or you require a more extensive inventory, Cyclomedia's data analytics can help you fill in the gaps. Our standard MIRE data dictionary outlines a robust set of roadway characteristics and assets we provide. We can also help you customize a data dictionary to include only the attributes you need, using your naming conventions and standards. Our Insights360 data extraction platform is powered by machine learning technology, allowing much of the data analytics to be automated. More automation means you get the data you need faster and with a much greater degree of consistency.
Cyclomedia's 3D roadway imagery, data extraction services and software tools can help Safety Offices with more than just MIRE data. Whether you are creating a Strategic Highway Safety Plan (SHSP) or supporting FHWA initiatives such as Highway Safety Improvement Program (HSIP), High Risk Rural Roads (HRRR), Railroad-Highway Crossing Program (RHCP), or Safe Transportation for Every Pedestrian (STEP), having complete and accurate data is crucial for informed decision making. Along with providing detailed roadway characteristics, we also inventory countermeasures and physical assets, as well as identify and collect information about important safety areas, such as railroad crossings, bike lanes, and pedestrian crossings.  
To further enhance the data analytics, Cyclomedia provides customers access to our Street Smart™ web application for viewing the cloud-hosted imagery. A high resolution, panoramic view of the roadway, along with the ability to overlay asset data allows users to visualize their data from a unique perspective.  Street Smart™ also provides a suite of measuring tools, allowing safety engineers/analysts to investigate roadways without the danger and time of a field visit.  Evaluating road diets, validating countermeasures, performing crash investigations, and many other roadway safety tasks have never been easier!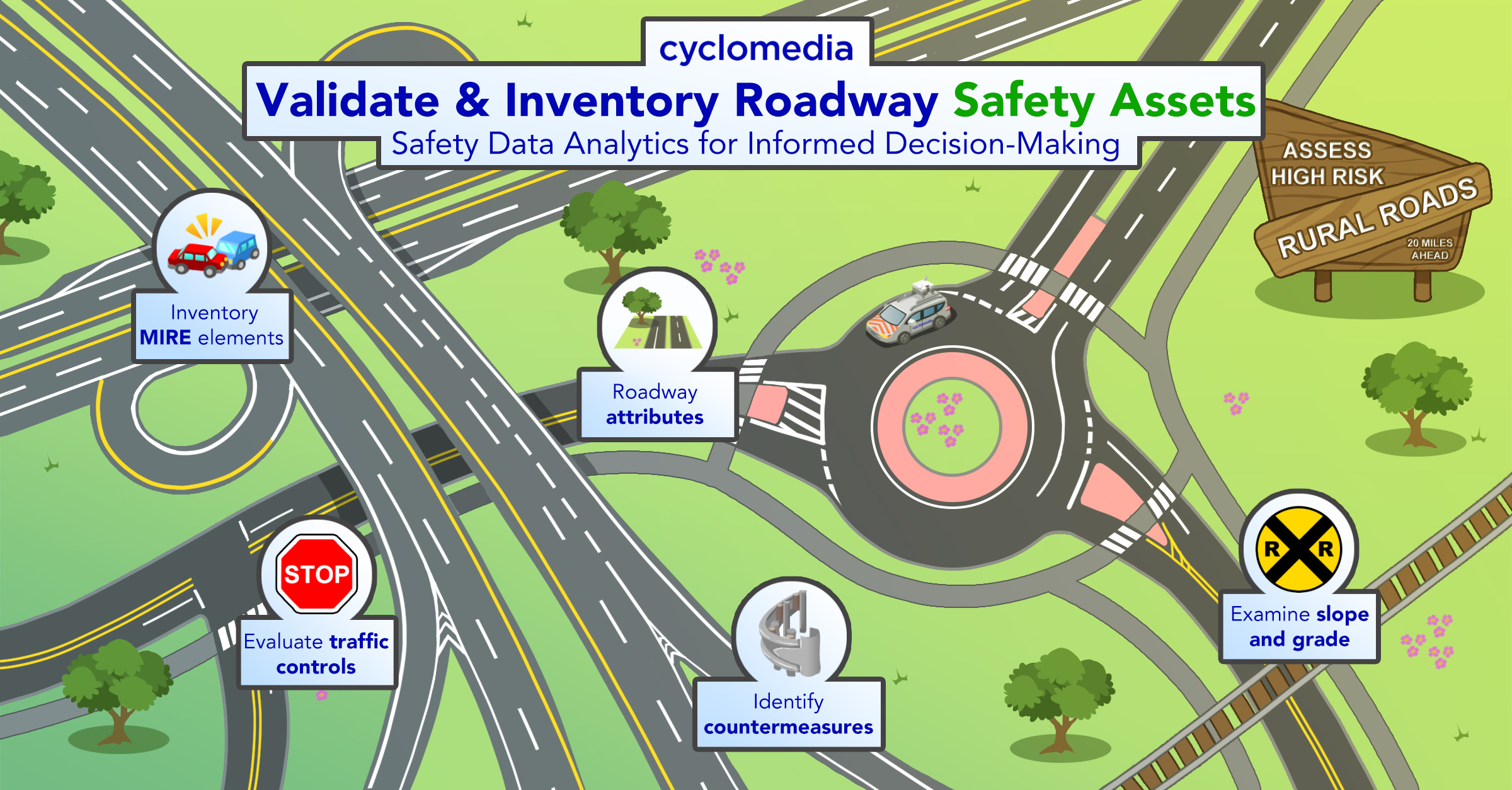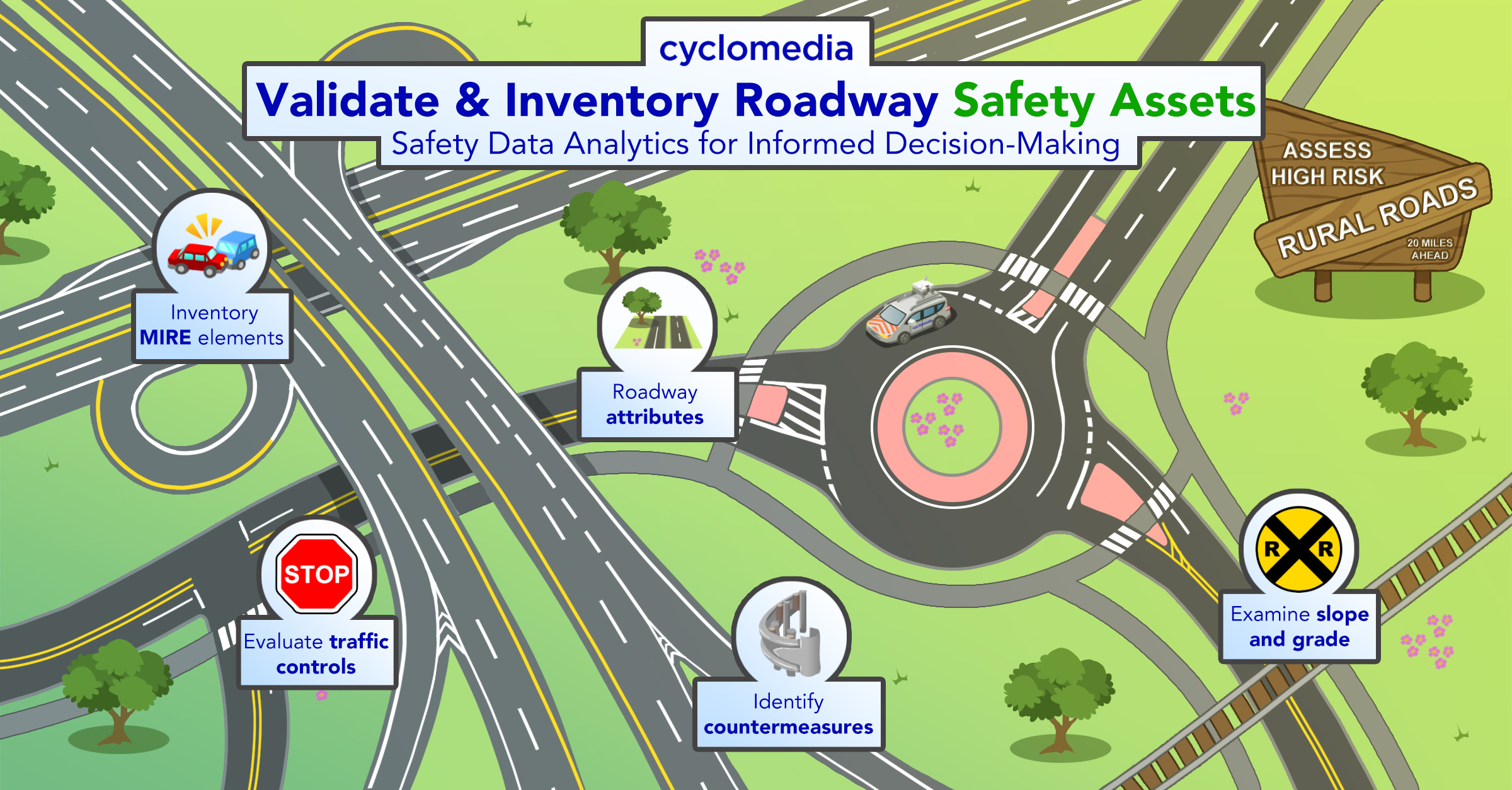 Our Data Capture, Visualization, & Analytics support:
Expedited inventory of MIRE. Our innovative data extraction platform, powered by Machine Learning, shortens the time it takes to deliver you the analytics on critical highway safety elements such as intersection traffic controls, speed limits, number and types of lanes and more.
Identification of countermeasures. To increase safety, DOTs need to know exactly where, and which safety countermeasures exist on their network. Cyclomedia provides data analytics for shoulders, roadside and median barriers, rumble strips, left-turn offsets, signage and more.
Enhanced visualization of roadway attributes. Cyclomedia's high definition, 360°x180° imagery give DOTs a better sense of roadway attributes that impact highway safety, such as clear zones, cross slopes, pedestrian/bicyclist facilities and entry/exit points for improved access management.
Examination of pedestrian facilities. With pedestrians accounting for over 17% of crash fatalities, identifying areas with insufficient pedestrian safety countermeasures can help target locations for investment. Cyclomedia can inventory crosswalks, signals, lighting, pedestrian refuge islands, curb ramps, sidewalks and other countermeasures.  We also provide advanced analytics for curb ramps to determine compliance with ADA regulations.
Come see how Cyclomedia can assist with your roadway safety needs.
Jenny Vaughan, Solution Engineer, Transportation