Innovation as a starting point
The Cyclomedia Research and Development (R&D) Department focuses on improving products and services through innovation. This leads to the development of new products and services for the future.
Our R&D team ensures that Cyclomedia footage and the various associated products are of the very highest quality and reliability. We work closely with universities and technical partners on specific projects and solutions in many research fields.
Our recording system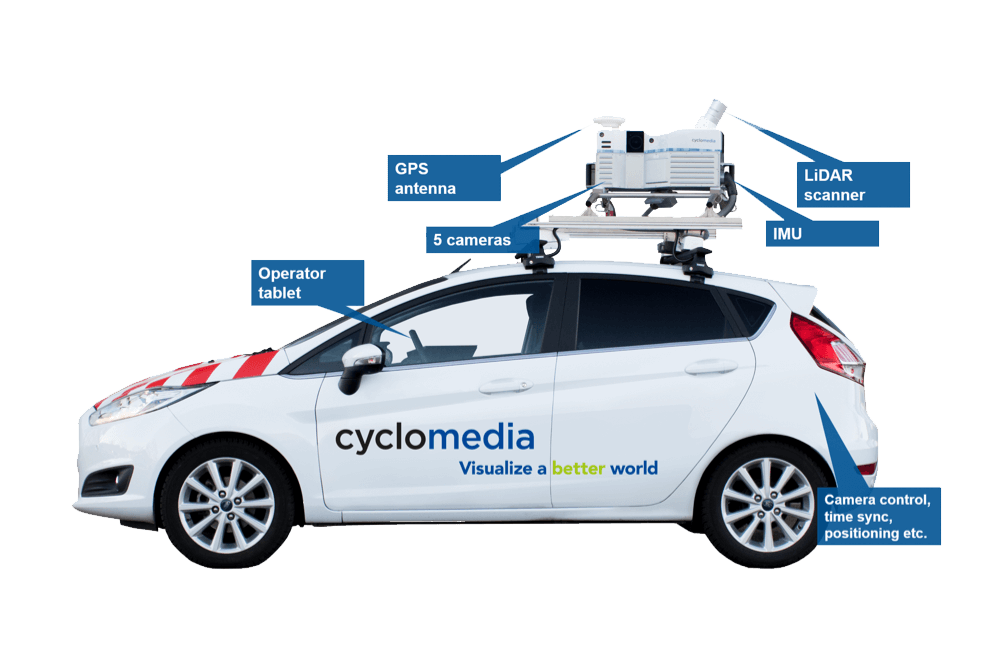 This includes recording vehicles, cameras, LiDAR and other sensors and real-time system control. In the last two years, we have developed a panorama recording system that is unique in terms of speed (10 fps), resolution (100 Mpx) and location precision (better than 10 cm).
Positioning
Through GNSS, inertial navigation systems (INS), the use of image data, LIDAR and other information sources. Improving the quality of location and orientation data.
Geometric data processing
Using camera calibration and automated geometric quality.
Image processing
The processing of raw sensor data into panoramic images (demosaicing/reconstruction of the colour of sensor data. Also, colour and contrast optimization, as well as perspective correction on the basis of calibration data).
Processing and hosting
The tools for workflow management (supporting the above-mentioned processes). Software for scalable hosting of the various Cyclomedia data products, enabling the viewing of image data and the derived information. Powerful cloud-based software has been developed to automatically process tens of millions of high quality panoramic images.
Viewing
Solutions for viewing and measuring imagery and GIS integrations, based on the concept of SaaS (Software as a Service).
Data insights
The widespread and systematic identification, classification and georeferencing of various objects. This includes traffic signs, road markings, light poles, buildings and roofs. Also, the texturing of 3D objects and reconstruction of 3D point clouds of panoramic imagery, LiDAR and aerial photography (nadir and oblique).